By Mack McKinney
We are a mixed bunch at Brady Landing Airpark. No rich, fat cats living here. Only one guy is retired. The rest of us put in 60-80 hours each week at jobs ranging from construction manager to software and mechanical engineers to inspecting merchant ships worldwide. Me, I'm just a teacher. My wife and I operate a small consulting firm that teaches systems engineering and Project Dominance (basically Project Management on steroids). When the weather lets me, I take our old 182 Skylane to my teaching jobs along the East Coast.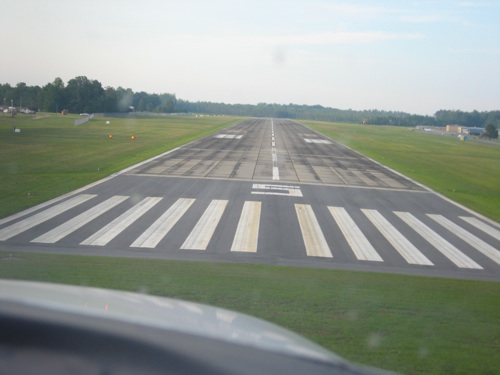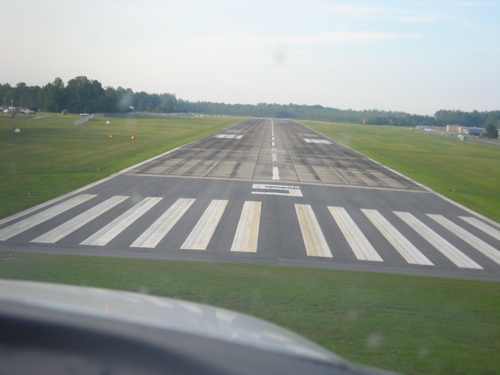 We were both raised in Kentucky so my wife and I knew we wanted to retire in the South. In 2006 we were looking for a residential airpark, near the coast, with friendly people and through-the-fence access to a public runway. We found all that at Currituck County Regional Airport. It is odd to think that I am pecking out this article next to a runway that exists mainly because of a Nazi U-boat captain named Horst Degen! Our runway was first built in early 1942 as an emergency divert field to handle bomb-laden B-17s patrolling for German submarines off the Outer Banks. In the first half of 1942, Degen in U-701 and his colleagues in dozens of other submarines had sunk almost 400 Allied ships! The US War Department stationed reconnaissance blimps and medium bombers of all types along the east coast to find and sink them. And it worked. An Army A-29 bomber sank Degen's sub on 8 July, 1942 less than 100 miles from where I now sit. His submarine brethren were also sunk in 1942-43 or slinked back to Germany.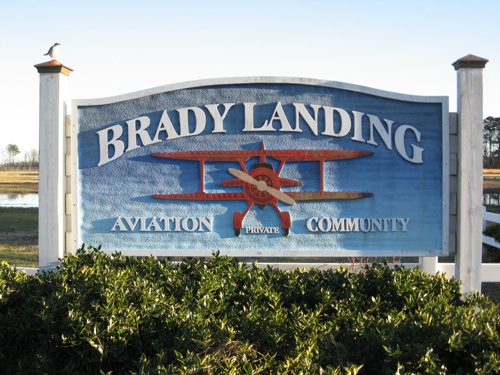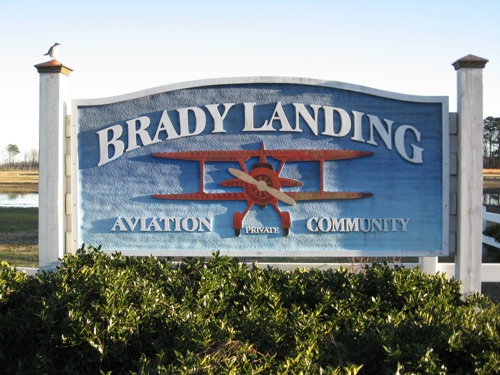 A fully loaded B-17 with hung bombs needed 4,000 feet of runway to get stopped so that is what the Army built here. The airstrip grew through the years (evidently serving as a drag strip for a while) and now is a 5,500 X 150 foot asphalt runway with a 2500 foot parallel taxiway under construction. The airport has a neat-as-a-pen terminal for visiting/resident pilots with shower, lockers, lounges, conference rooms; low priced, self-service 100LL and Jet-A; AWOS; GPS and VOR approaches and (most importantly) pilots and students of all ages and backgrounds who live, eat and breathe aviation! I recently gave airplane rides to some local high school students and then took an instrument lesson the next day along with a local physician. Last week I peeked in on the private pilot ground school being held in the airport conference room on Tuesday nights and saw 12 smiling faces, ranging from early 20-somethings to folks north of 50.
There are now nine houses in our airpark, most already with hangars. One house-hangar combo across the street from me is for rent. Hangars and houses are going up on several of the 19 undeveloped lots remaining. We have just listed the 1 acre lot next to our house and are getting enquiries from folks in the Northeast who want to escape the snow, rain, freezing drizzle, ice . . . . well you get the picture. (Come to think of it, anyone buying a building lot here now can rent Monica's house/hangar while their house and hangar are being built! That's exactly what two other pilots did here.)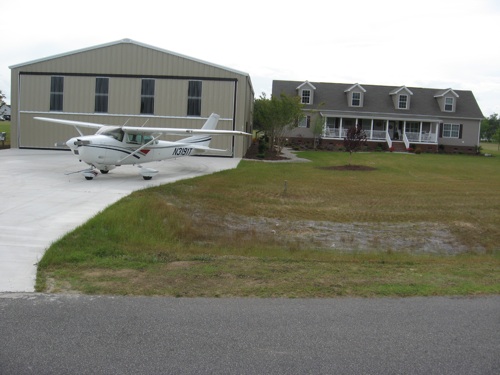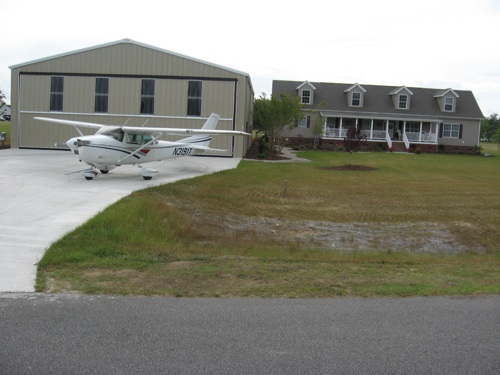 But if you are seeking a place to watch landings and take-offs from your deck . . . well . . . our little airport might not be busy enough to keep you entertained. We have only 20 or so landings and take-offs daily. We have a Marchetti, RV-6, Cardinal, Skylane and 172 tail-dragger based in here plus a dozen or so active aircraft over on the airport side of the fence. We also have a little sky diving action periodically and Kitty Hawk Kites gives ultra-light and hang-glider lessons in the summer, which is fun to watch. But we are sure not an aircraft watcher's haven.
But if you want to FLY, now that is different story. By Skylane, we are five minutes from the Outer Banks and 15 minutes from Manteo (Dare County) which is close to the beaches of Nags Head, NC. In fact we are smack dab in-between New York City and Miami – – – far enough North to have all four seasons but far enough South to enjoy mild winters with little or no snow. A typical weekend finds somebody headed to Okracoke for lunch on the beach, somebody else flying to the Wright Brother's Museum with out of town visitors and somebody else headed to Williamsburg, VA for prime rib at Charlie's airport restaurant. There is almost always a spare seat available.
The region appealed to us almost as much as the Airpark. We are a 45 minute drive from the beaches of Kitty Hawk, NC, a 45 minute drive from Chesapeake, VA (a suburb of Norfolk), and 30 minutes from quaint little Elizabeth City, NC. We have an outstanding A&P living nearby, other A&Ps resident at six airports within 15 minutes' flight time and the FBO in Chesapeake is also a Cessna dealer.
The future is promising as well: The new airport manager is a Coast Guard flyer with management experience and excellent people skills; our proactive county government is planning 20-30 years into the future, setting aside areas for housing developments outside the noise footprint of the airport traffic pattern and other areas for industrial parks nearer the airport. And even the crusty FAA is softening its historic dislike of Airparks like ours and is about to start approving them one-by-one across the country (with some persuasion from Congress, the EAA and the AOPA).
Our next public Flight Day at KONX isn't until October 2011 but come visit us anytime here at Brady Landing and lower your blood pressure for a few hours. But drive up to my house slowly because I may be in my pajamas on the porch drinking Southern sweet tea and I'll need 30 seconds to dash into the house for some pants before I say hello.
Mack McKinney is a pilot, teacher and writer. He wears pants most of the time. See his blog at www.activegarage.com/series/leader-driven-harmony . You can also follow him on Facebook and on Twitter at www.Twitter.com/SolidThinkers or email him at Mack@SolidThinking.org.
If you'd like to learn more about the U-boat war along the Outer Banks, you can buy an illustrated booklet for a whopping $7.00 plus shipping from www.PilotOnline.com. Great first-hand stories and photos.