By Marty Harris, Florida
As a new pilot living near Burlington, VT (circa 1978) and later in Northern Illinois, I was envious of my fellow pilots living on airparks, pulling their planes out of the hangar and flying wherever and whenever they chose! I especially liked the rustic nature of Shelburne Airpark (VT) with the pole barn hangars and country atmosphere. Later I would scan the GA News and that yellow rag at the FBOs for real information about affordable airparks. I hoped one day that dream would be possible for me but was sure the "entry" fee would be too high to become a reality, especially when I saw the "high-end" airparks like Spruce Creek near Daytona and Casa de Aero North of Chicago with strict covenants excluding most blue collar flyers like me.
Fast forward 35 years and here I am living in the Ocala National Forest at the finest airpark in North Central Florida, Woods & Lakes Airpark (FA38). With fifty lots on the runway and forty homes of mixed construction (site built, manufactured and yes, pole barn hangars), we all enjoy the freedom of aviation. We are fortunate to have "resident owned" grass runways for tail-draggers and paved for trikes. With limited code requirements, very reasonable taxes and very low annual airport fees, we live the life of Riley.  We have a few nice "ready to move-in" properties available for under $200K.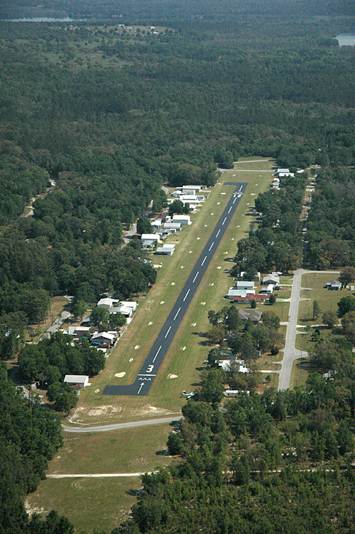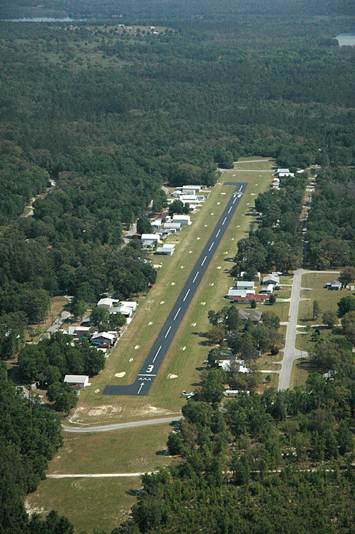 About 50% of our residents are snowbirds from Ontario, the North-East and the Mid-West the rest of us year-round owners enjoy peace and quiet for about five months, then all hell breaks loose. You'd think we lived on an airport! Fly to breakfast, fly to lunch, fly to EAA meetings. Does it ever end? I hope not!
We have twins, antiques, classics, float planes and many LSA's. Many residents have the skills and ratings needed to keep us all flying safely. The women (several aviators and quilters) keep all the parties going, including dinners, BBQ, EAA Fly-ins, holiday and snowbird parties. Having all the shopping amenities nearby, help us survive this peaceful place. Every day is a four O'clock gathering for the ladies and hangar flying for the men. For us New Englanders, fried clams and haddock are not far away.
Many here have classic and antique cars and motorcycles and we often participate together in runs and shows.
Find out more about this lifestyle from www.woodsandlakesairpark.org or email me and we can do some hangar flying.